NICEA 220V 3,2W
COD: 3201
Application
Floor
Recessed drive-over spot light IP67 – IK10 with 1×3.2W led.
Aluminum alloy body with aluminum or steel flange.
Floor installation with outer-casing provided.
Fixing screws are hidden by the finishing flange and the lamp can be positioned independently of the outer-casing.
Non dazzling dome with inclined led for greater light emission
Technical compartment to make connections without opening up the product.
Second cable gland for in/out connection.
Power supply unit incorporated.
Shape


Finish



Colour


4000K  

3000K  

2700K
Real Lumen
3000K ≃ 80 LUMEN
Opticals
Side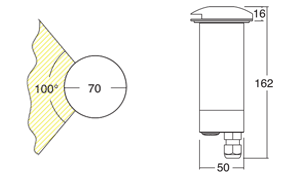 ---